The Knowledge Bazaar is an engaging format lasting approximately 1.5 hours. Participants are invited to visit a number of stalls, and at each stall a person presents a project, an initiative, a tool or a method that is in line with the theme of the meeting.
How the knowledge Bazaar works
The Bazaar runs in five intervals, lasting 10 minutes each. The last three minutes of each interval is used for questions and dialogue. Between each interval very loud music is played in 1-2 minutes where everyone finds a new stall to visit. The participants decide on the spot where they want to go. They orientate themselves in a handout with a very short description of each stall and a map. The music and the fixed time of the intervals is the backbone of the format, and sets it apart from traditional fairs, exhibitions or poster sessions where people casually stroll around (or do not visit at all). Ideally, there are no concurrent sessions while the Bazar is running. The Knowledge Bazaar works both for smaller meetings with 100 participants and for large conferences with 2000 participants. The number of stalls are simply adjusted to fit the number of participants – the ratio should be 7-12 people to each stall. (The larger the bazar, the higher the ratio).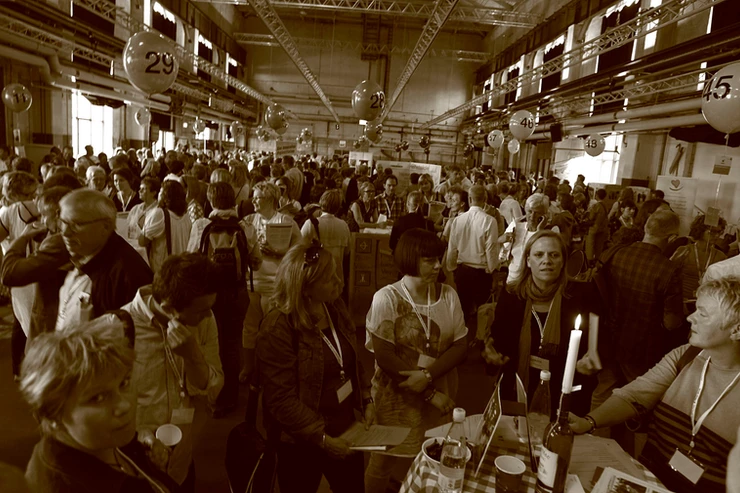 Why does the Knowledge Bazaar work so well?
Participants LOVE the Knowledge Bazaar and because they find it to be active and meaningful at the same time.
They move physically from one location to another, they get new knowledge in small doses within specific areas that are of great personal interest (the volume and diversity of the bazar ensures that there is always something for every taste and within different niches), the content is practice-oriented and the format provides excellent networking opportunities.